Carol Float 2015
You know Christmas is here when Hull Wyke Round Table brings Father Christmas down your street!
As usual, Santa will be touring some of the streets of the West Hull villages in his amazing sleigh decorated with colourful lights and full of Christmas spirit!
Sunday 13th,            North Ferriby
Monday 14th,          Willerby
Wednesday 16th,     Brough
Thursday 17th,        Hessle
Sunday 20th,          Swanland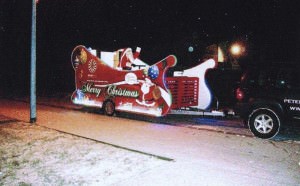 We really appreciate your support and hope it brings a smile and some joy to you and your children.
All money raised is distributed to local charities for children.
Bonfire Night Firework Fiesta Tuesday 5th November 2013, gates open at 6pm, firework display at 7.30pm
For the 35th successive year we are staging our Charity Bonfire and Firework Display at Humberdale Farm, Tranby Lane, Swanland on Tuesday, 5th November.
From 6pm onwards you can enjoy:
Our spectacular bonfire
Music from the steam organ
Games at the games stalls
Hog Roast
Mulled wine
Fancy goods and toys
Hot Dogs and Burgers form our food tent
Hot and Cold Drinks
Sweets and Crisps
At 7.30pm we will launch our most ambitious firework display yet! With a multitude of colours filling the night sky we hope to hear lots of Oooo's  and  Aawww's between the explosive pops and bangs of the Fireworks
We look forward to seeing you there !
Prices
Cars £10
Walking entry – £3 per adult and £2 for Children (under 16)
|t would help us greatly and speed your access to the event by having the correct change available at the gates.
Charity event
Please note that this is a charity event manned by Hull Wyke Round Table and Volunteers, all proceeds from the event are used by the Hull Wyke Round Table for charitable causes aimed at Local Children's Charities